The project to examine these old textiles was started in 1992 by Dr Gillian Vogels- ang-Eastwood at the Leiden University in the Netherlands.
In 1995 the School of Weaving at the Uni- versity College of Boraas, Sweden, enter- ed the project bringing expertise on repro- duction of ancient textiles, and the idea of a true remake began to take form.
By kind assistance from the Egyptian Mu- seum in Cairo the original clothing was studied and documented and this resulted in the making of exact duplicates, the first ever (and so far only) to be made.
In 1999, after three years of work, it was presented to the international press and these unique items got a great response.
Over the years the exposition has been in Poland, Holland, Denmark, Scotland and Northern Ireland, Stockholm Sweden and Minneapolis USA and many other places.
Negotiations are now (y 2006) taking place with several museums in North America and the museum of Alexandria in Egypt.
When it's over the result will be published here and hopefully the tour plan can be presented. Thus: visit regularly for info.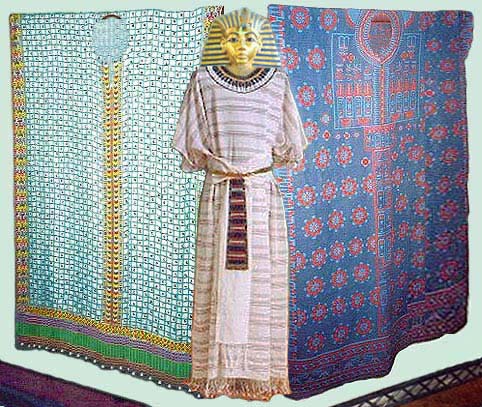 Lots of garments in beatuiful colors and patterns were stored in his tomb,
and now identical copies show their beauty in museums around the World.